Some cosmetic medical treatments almost always cause several days of redness, bruising and/or swelling, making it difficult to time the treatment if you don't want your co-workers asking questions or whispering about you.
Because many people don't work on the Friday after Thanksgiving, having one of these treatments on the Wednesday before will give you enough time for the evidence to be gone by the following Monday. Thus, at Skinspirations, we call the day before Thanksgiving, Red Wednesday.
We reserve our scheduling on Red Wednesday for those treatments that are usually associated with a few days of discoloration and/or swelling and we're offering incentives on the treatments below to help motivate you to finally schedule that treatment you've been postponing.
Why not look your very best before all the December social events?
Red Wednesday Promotions:
Profractional Laser Skin Resurfacing
Get a complimentary Oxygenetix Oxygenating Moisturizer (value $85) with your full-face Profractional Laser treatment
Get a complimentary Photofacial to the neck, chest or hands with your Photodynamic Therapy treatment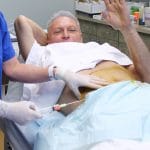 Fat Transfer or Nanofat Treatment
Save $200 on a Fat Transfer
Save $100 on a Nanofat Treatment
Get a complimentary VI Exfoliating Body Lotion or VI Exfoliating Body Wash (retail value $40) with a facial VI Peel
Red Wednesday specials are valid only on Wednesday, 11/21/18, Friday, 11/23/18, & Saturday, 11/24/18. Quantities are limited and there are no rain checks. These promotions are not valid with any other discounts or promotions and cannot be purchased with patient financing services.