Skinspirations' Wrinkle Relaxant Treatment Options
There are now four FDA-approved injectable medications that safely relax the muscles that cause wrinkles. These medications are referred to as neuromodulators. Neuromodulators can smooth forehead, frown, neck and smoker's lines, crow's feet, and chin dimples and creases.
When muscles that pull facial areas down are treated with neuromodulators it results in a lifting effect. Areas that can be lifted with muscle relaxant injections include mouth corners, jowls, and brows. When treatments are done by an expert, you'll have normal expressions but look smoother and refreshed.
The wrinkle-relaxing medications available in the US include Botox® Cosmetic, Jeuveau, Dysport and Xeomin. Each is made from slightly different proteins that when injected into a muscle, stop it from squeezing. Without repetitive muscle contractions, the overlying skin stops creasing and appears smoother. All of the available cosmetic neuromodulators have similar safety profiles and produce results that last roughly 3-5 months, with slightly different patterns among them.
The differences between the neuromodulators – Coke vs Pepsi
Most people are familiar with Botox® Cosmetic, which is not only the most frequently performed cosmetic procedure done in the United States, it's the most popular cosmetic treatment in the world. It has also been used safely for a variety of medical conditions including migraine headaches and muscle spasticity for many years. Botox® Cosmetic results usually become visible about 3-10 days after each treatment for most people and last about 3-4 months.
Dysport™ is another neuromodulator FDA-approved in the U.S. in 2009 and is considered so safe that it's now approved for spasticity in children. The effects of Dysport become evident within 2-5 days and results persist for an average of 3-4 months.
Jeuveau, the newest "tox" on the block, produces results within 2-3 days for many people and the duration sometimes lasts for up to 5 months. Our patients have commented that they think Jeuveau provides a "softer" effect compared to other neuromodulators.
You can be confident that you're getting the safest, most effective wrinkle-reducing treatments at Skinspirations, where we've performed over 15,000 neuromodulator treatments. Our providers teach other doctors and providers both basic and advanced techniques with the muscle relaxants as well as dermal fillers. Skinspirations has been designated a Diamond level practice by the maker of Botox® Cosmetic, meaning that we're one of the busiest Botox providers in the country.
Rewards Programs:
Prices for the different neuromodulators are comparable and each has its own rewards program.
Right now you can get $40 off each Jeuveau treatment (at least 90 days apart) through the end of 2021 when you sign up at https://www.evolus.com/rewards/.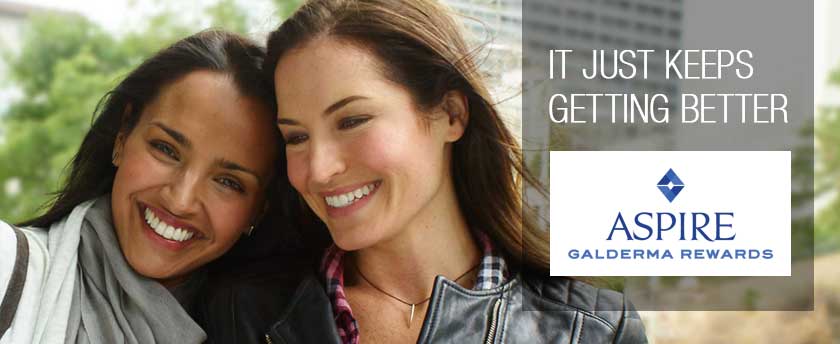 The rewards program for Dysport and other treatments like Restylane and Sculptra is called Aspire, and you can save $60 on your first treatment when you sign up at https://www.aspirerewards.com/landing.
Allē is the rewards program for all of Allergan's products including Botox, Juvederm, CoolSculpting, Kybella treatments, and SkinMedica products.
Call us at (727) 571.1923 or email us at info@skinspirations.com now to schedule your complimentary consultation to learn what we recommend to help you look your very best.
MicroBotox
Microbotox, also known as Mesobotox, is a treatment that makes pores smaller, reduces oil production, redness and superficial fine lines.
Neuromodulator Dosing and Pricing
Every day Skinspirations receives questions from patients asking about the way injectable muscle relaxants are prepared and priced, and it is confusing until you understand the difference between dilution and dosage (units).
All of the cosmetic neuromodulators like Botox Cosmetic are packaged as freeze-dried powders so they have to be mixed with a liquid in order for them to be injected.