Facial Aging Treatments
The Skinspirations 3D Strategy For Facial Aging
Much of the changes we see in our face as we age is due to a combination of:
The loss of both fat and bone volume with age
Repetitive muscle movements leading to permanent creases or wrinkles
The loss of skin elasticity and thickness
Textural and pigmentation changes from cumulative sun damage
Read more here about the anatomy of facial aging
Age-related fat & bone loss produces 3-dimensional changes that require a 3-D solution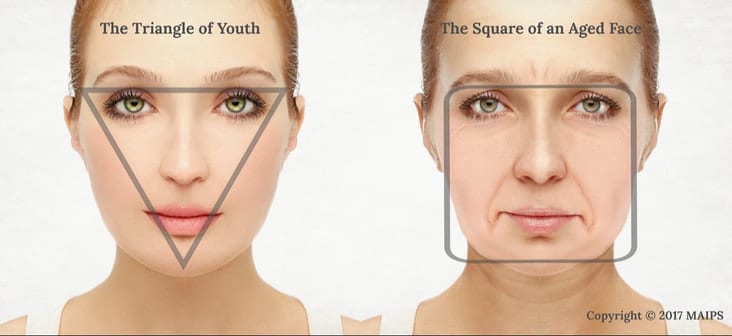 Repairing the changes caused by aging in the face can loosely be compared to remodeling an old house, with an older face often requiring treatments that start with restoring the foundation, but a younger face possibly able to get good results with just a new coat of paint.
The foundation – The facial bones provide the baseline structure that supports the overlying muscles, fat, and skin of your face, and parts of them start shrinking by the time you turn thirty. Replacing lost volume at the bone level lifts the overlying muscles, fat and skin and is the best first step towards rejuvenating an aging face.
Sculptra is a tissue stimulant that when injected under the muscles, builds up the foundation to make the canvas again fit the frame. Thicker dermal fillers like Juvederm Voluma, Restylane Lyft, and Radiesse can also be placed strategically to replace lost bone volume.
The walls – Correcting facial sagging from shrinking fat compartments can be done with multiple dermal fillers and stimulants as well as with a transfer of fat from somewhere else on your body. As volume is restored to the fat compartments, the skin fills out and lifts up the tissue below it as well, providing a 3D improvement.
Details. – Once the foundation and walls are in place, softer dermal fillers like Juvederm, Restylane, etc. can be used to fill remaining wrinkles and lines. Decreasing & then preventing wrinkles that have developed from repetitive muscle movements, like smiling & frowning, is done every 3-4 months, usually, with muscle relaxant treatments like Botox Cosmetic.
The roof – Fractionated ablative laser resurfacing like Profractional, Microneedling, Photodynamic Therapy, and Plasma Fibroblasting are all methods that replace aged skin with brand new skin that has a fresher, younger-looking texture. Relaxing facial muscles whose repetitive contractions cause wrinkles can be done with neuromodulator treatments like Botox.
Paint – Discoloration caused by pigment can be corrected with IPL, chemical peels, and sometimes simply with products. Our estheticians will be glad to go over recommendations based on your skin type & concerns. Laser Vein Reduction will remove any visible veins and underlying redness.
If you're new to cosmetic treatments this can seem like an overwhelming amount of information but it's important to us that you understand the rationale behind our suggestions. We are not trying to pressure you into building a house and in fact, we recommend that most clients start with small treatment steps.
If you are interested in learning our suggestions for your facial aging concerns, you can schedule a complimentary consultation by registering online here or by calling 727-571-1923.